Amber Heard continued to describe the violence she says she endured at the hands of ex-husband Johnny Depp as she testified for a second day Thursday, sharing her side of the incident where the "Pirates of the Caribbean" star said Heard threw a glass bottle at him, severing his fingertip.
Both actors described an ugly scene of violence at a secluded rental home in Australia where Depp had been filming a movie ― but their versions of what transpired differed dramatically. Heard said multiple times that evening in March 2015 was "terrifying," describing it as the most scared she'd ever felt.
At the height of the violence, Heard said, Depp allegedly penetrated her with a bottle repeatedly, putting pressure on her pubic bone. When he stopped, she said, she was afraid to move because she didn't know if the bottle was broken. She was bleeding, and went to the bathroom to throw up.
"I can't believe I have to do this," she testified, while her attorney apologized for asking her to recount the alleged experience. "Johnny had the bottle inside of me," she said.
According to Heard, the incident began after Depp started drinking and took an unknown quantity of the party drug MDMA. The pair were married at this point in their relationship ― they divorced in 2016 ― but had not seen each other in weeks due to their respective work schedules.
She said that when he shoved her, she shoved back.
"Do you want to go, little girl?" Depp asked, in Heard's telling.
Depp then allegedly began striking Heard, at one point throwing her onto a pingpong table that collapsed before starting to hit her again. At another point, Heard said she grabbed an empty bottle of alcohol Depp was waving at her tauntingly, and smashed it onto the tile floor, breaking it.
"It was like a lightbulb switch went off. He starts screaming. I don't know if he backhanded me or hit me normally, I don't really recall, but I remember it sent me down to the ground," Heard said, crying.
"I remember by the time I picked myself off the floor, I stand up, he's got a bottle in his hand. He threw it at me. It missed, thankfully, but I kind of pulled myself back … at some point, he had a broken bottle up against my face, neck area, by my jawline. He told me he'd carve up my face," she testified.
"I honestly don't remember if I threw anything in his direction. I don't think I did," Heard said. "I just remember him having me by the nightgown. I remember him flailing me, throwing me around, I'm flailing. This was after there were some bottles broken on the floor. This was after — again, forgive me, I wish I could remember the sequence, but it's flashes — he's throwing these bottles at me."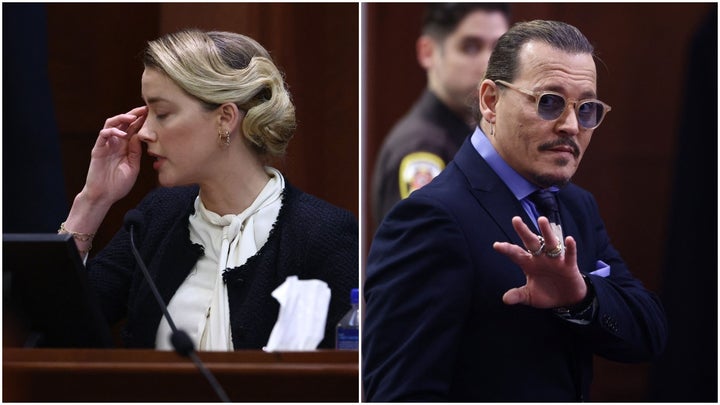 In Depp's telling, he never hit Heard or any other woman. Instead, Heard chucked a broken bottle at him inside the house in Australia, and it sliced off the tip of one finger. At one point during his dayslong testimony, Depp stood up and spread his fingers before the courtroom, displaying the one that had been repaired by doctors.
The manager of the rental house testified last month about finding Depp's fingertip in a bloody paper towel.
But Heard said she was simply trying to get away from Depp and protect herself.
"At some point, I'm up against a wall and he's screaming at me that he fucking hates me. That I ruined his life," Heard testified. At another, she said, Depp ripped off her nightgown, leaving her naked.
After the attack, Heard said she found the house had been trashed, with empty bags of what she said was cocaine scattered around. Images shown in court showed splotches of blood on the floor, along with messages scrawled in paint and what Heard said was blood from Depp's injured finger on the walls, a couch, a lampshade and other furniture. Mashed potatoes were smeared "all over" the walls, along with other foods, including pieces of raw steak that had been wrapped in the fragments of her nightgown, according to Heard.
"It was clear he was just out of his mind. He wrote on the back of a pillow in blood," Heard said. "It looked like he ran out of blood … it wasn't bleeding enough, and he went and got paint, and it became paint and blood."
Depp has been open about his struggles with alcohol and drug addiction in the past, but maintains that he never abused his ex-wife ― rather, he says he was the one who was abused. He said on the stand that her abuse claims were "heinous" and "not based in any species of truth."
Both actors' testimony came as part of Depp's defamation lawsuit against Heard over a 2018 Washington Post editorial she wrote with lawyers from the American Civil Liberties Union, describing her as a domestic violence survivor.
Earlier in the day, Heard built on testimony she gave Wednesday alleging that the people who helped manage Depp's career ignored his bad behavior and helped cover it up by, for example, changing him out of soiled clothes after he'd passed out.
On Thursday, she told of an incident on a private plane in 2014 where Depp confronted her about steamy scenes she'd filmed with actor James Franco for the film "The Adderall Diaries," which debuted in 2015.
"He called me a ****," she said. Heard had described many instances throughout her testimony where Depp accused her of cheating on him with other people.
On the plane, she said that she tried distancing herself from Depp, who began "throwing things … ice cubes, utensils." Then, she alleged, he slapped her in the face while a friend of the couple sat nearby. People who worked for Depp were also aboard, she said. When Heard got up, Depp kicked her in the back, causing her to fall to the floor of the plane, she said.
"No one said anything. No one did anything. You could hear a pin drop on that plane. You could feel the tension, but no one did anything," she said.
During the incident in Australia, Heard said that after Depp's security arrived to offer help, he took out his penis and said he would write messages for her in urine. Heard recalled the security officers being amused.
In the courtroom, Depp grinned when his ex-wife mentioned him urinating.
Heard described several other scenes of violence over the course of the day, including one in which she said he punched her so hard in the face that she thought he had broken her nose. Depp had accused her of flirting with another woman, she said.
At another point, Heard said Depp had grabbed her by the hair and kicked her in the back in a hotel room during the press tour for Depp's 2015 film "Mortdecai." She sobbed as she recalled checking the internet for photos of her red carpet appearance because she had brought a strapless dress to wear, and was concerned about bruises or marks showing up in the photos.
Depp and Heard were married in a civil ceremony in Los Angeles at Depp's mother's home, and then flew to the actor's private island for a party and beachside celebration with friends and family. Although he was wealthier than she was, Heard said Depp refused to entertain the notion of creating a prenuptial contract.
"He said the only way out of this was death," she said of their marriage.
Heard is expected to resume testimony next week.
Notice Regarding Third-Party Advertisements
This is a cached database listing from another source and all content is created and provided by the advertiser who is solely responsible for such content including, without limitation, all text, images, contact information, and websites. WE CANNOT HELP YOU BOOK ANY ESCORT. We assume no responsibility or liability for such content or the content or operation of websites that you may link to and visit. We do not endorse, review, or control any websites that are linked to or from an advertisement. Please read more about us and review our terms of use and conditions for additional information about database listings appearing on our site. Please reference our online safety tips for general tips and techniques you should keep in mind to protect yourself and your privacy online. Additional information is also available about identifying and reporting suspected Human Trafficking.
About Dating O'Hare Escorts and Chicago Escorts
Are you new to dating O'Hare Escorts and Chicago Escorts? There are two kinds of O'Hare Escorts and Chicago Escorts — independent escorts, and agency service escorts. An escort agency or escort service like Chicago Erotic, hires female companions for fun and adult entertainment and possibly as guides for those who are new to the great cities of O'Hare Escorts and Chicago!
Escort clients may also hire a female companion in O'Hare Escorts and Chicago to accompany him to dinner or an event! Therefore, it's important that escort clients are comfortable with the escort. Whether he chooses a O'Hare Escorts or Chicago Independent Escort or chooses to utilize one of the many outstanding Chicago escort services, many escort clients have concerns regarding the legalities of hiring a female companion or escort. Keep in mind that escorting is a legal career choice for female companions and O'Hare Escorts escorts are never compensated or paid for sexual acts but compensated for their time.
More About Chicago Escorts
Chicago female companions are cultural icons, luxurious, and can be hired to accompany hobbyists for events, companionship or staying at home for pleasant conversation with dinner.
Escort client hobbyists should never hesitate to have a beautiful Chicago female companion on his arm in public or private. O'Hare Escorts and Chicago Female Escorts are uplifting and lead an exciting, pampered, healthy lifestyle. These high-class, VIP Chicago Escorts take pleasure in all the city of Chicago has to offer. O'Hare escorts hired via an escort agency or independent escorts, offer an unforgettable, mind blowing experience and are experts in the aspects of fun, sensuality and the adult entertainment industry.
About Chicago Erotic Escort Directory
Chicago Erotic is an escort directory specializing in databasing the best Chicago Illinois escorts. Chicago Erotic is great site for escorts, providers and escort clients seeking the maximum satisfaction in Chicago and surrounding areas without visiting multiple escort directory websites. On Chicago Erotic, you can search and find Illinois escort ads, read Chicago companion or provider reviews, all in one place. Find local Chicago female escorts, Chicago erotic massage, Chicago massage parlors, Erotic spas , Downtown Chicago independent escort reviews and more.
Are you native to the wonderful city of Chicago? Are you looking for an out of this world encounter with naturally beautiful companions?
Enjoy Chicago Escorts Like a Local Residents or Seasoned Tourist
There are so many escort directories spotlighting VIP female escorts in Chicago or Downtown Chicago. You more than likely queried a Google for "Chicago Escorts," "Chicago escorts near me," or "Chicago escort reviews." Chicago Erotic has everything you're looking for, for an erotic adventure! Whether you're seeking escorts or agency escort services, escort reviews or erotic massage, Chicago Erotic has it all. Your escort desires being satisfied are just a search away!
Finding Real Chicago Escorts
Curious about Independent Chicago female escorts or where to find real ones? With so many options online where should one even begin to look to find reputable Chicago escorts. With Chicago Erotic Escort directory, you can find various erotic services all in one place. Even those under served service areas that like Cicero, Downtown Chicago, Midway Airport or O'Hare. Offering escort service listings in smaller served areas is our speciality. Chicago Erotic escort directory makes it easy. When all Chicago directories and all surrounding areas are combined into one directory website, all the hard work has been done for you. Simply browse our amazing selection of Chicago escort companions.
Female Chicago Escorts Offering Incall and Outcall
Various Chicago independent escorts and escort services offer incall and outcall services. Chicago escorts tend to be extremely accommodating to escort client hobbyist location desires and needs to make for a smooth and exciting encounter.
Chicago Erotic Massage and Spa
Chicago Erotic Massage services are the best when it comes to pampering and relieving your stressed mind and body. Whether you're seeing a private Chicago erotic massage provider, or visiting a relaxing stress-free Chicago massage parlor, or erotic spa, you will be immediately welcomed to release all your stress and tension putting your mind and body at ease.
For Those that Desire only the Best Chicago Escorts
Perhaps your Chicago escort desires have yet to be fulfilled and you still find yourself searching for "Chicago escort services near me," Chicago Erotic Escort Directory offers hundreds of Chicago female companions and erotic massage providers easily via your desktop computer or mobile device for a reason, to offer you a wide selection of service providers to browse in your area, in one place so you can locate the right Chicago Escort for you.
Available Chicago Escorts on Desktop or Mobile
Chicago Erotic Chicago Escorts Escort Directory, regardless of how you're connecting to us, is **** with so many escort tags and escort categories to help you make the best informed decision. For your convenience, try using our quick main menu links to quickly find all Chicago escorts such as All Escorts, which features all escorts in Chicago surrounding areas, Erotic Massage and Escorts Near Me. These quick links will list all Chicago providers which have their location as Chicago Escorts by their adjoining town or city. We also have listings for Chicago GFE escorts, for those seeking a bit more from their Chicago Escort experience.
Booking a Chicago Escort
Remember, Chicago Erotic Escort directory cannot help or assist with booking any Chicago escort booking or appointments. You will need to follow the source link within the Chicago escort ads and contact them directly.
Chicago Erotic Escort Directory offers so many fun categories such as VIP Chicago escorts or more budget friendly Chicago escort service provider, Cheap Chicago escorts.
Again, these amazing Chicago female escorts will often travel other areas within the surrounding Chicago city limits to assist with serving escort client hobbyist that don't get the opportunity to make it directly into the Windy City due time restraints or distance, therefore, check other surrounding areas possibly closer to you for Chicago Escorts, Downtown Chicago Escorts, O'hare Escorts, Schaumburg Escorts, and Midway Escorts.
Trusting a Chicago Escort
PLEASE DO NOT CONTACT Chicago Erotic Escort Directory REGARDING ANY CHICAGO ESCORT YOU MAY SEE ON THIS WEBSITE. WE CANNOT HELP YOU. CHICAGO ESCORT ADS AND THEIR REVIEWS ARE SHOWN FOR ENTERTAINMENT PURPOSES ONLY.
You are viewing cached results from https://www.huffpost.com/entry/amber-heard-johnny-depp-abuse-australia-testimony_n_62741287e4b009a811c0f6d4