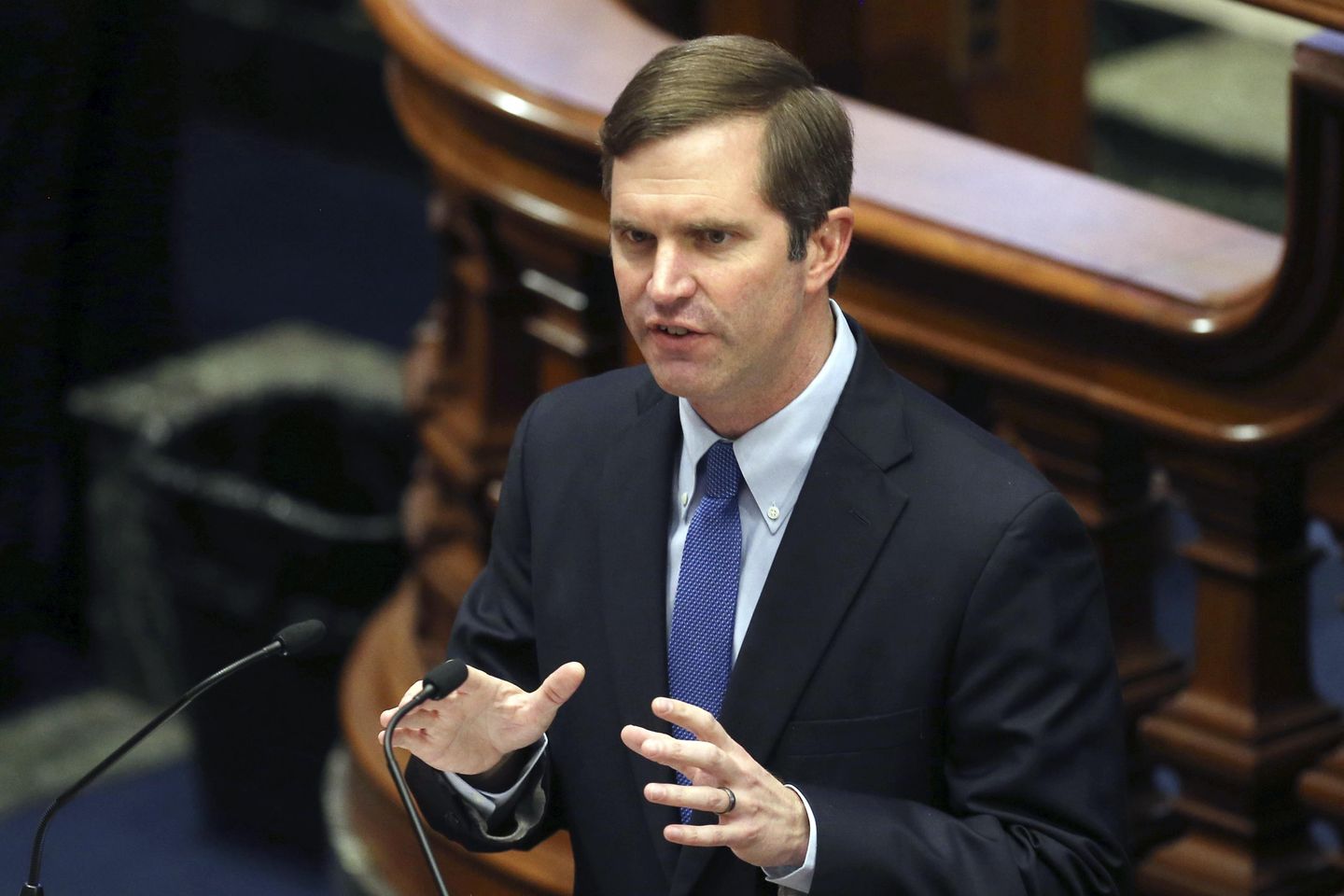 FRANKFORT, Ky. (AP) — Gov. Andy Beshear sounded increasingly confident Thursday that he will have the leeway to take "at least some executive action" to make medical marijuana legally accessible in Kentucky.
It was the governor's strongest signal yet that he might singlehandedly allow medical marijuana for Kentuckians suffering from certain medical conditions. His prediction comes as his legal team reviews his options on a long-running issue that stalled in the legislature.
The Democratic governor first floated the possibility of executive action about a month ago, and since then the latest bill to legalize medical marijuana died in the Republican-dominated state Senate.
"The legal analysis is not yet finalized, but I do think that there is going to be room for at least some executive action," Beshear said Thursday when asked for an update at his weekly news conference.
The governor maintains that legalizing medical cannabis has strong support among Kentuckians. He didn't specify Thursday what actions might be at his disposal to make it legally available.
"Whatever steps we're able to take, we want them to be clear," the governor said. "We want it to serve a purpose. It is not a back-end way to allow recreational marijuana. So we want to make sure that we do it right."
Beshear said "there are folks out there suffering" who could benefit from medical cannabis. He said he spoke recently with a woman whose son suffers from post-traumatic stress disorder after multiple deployments with the military.
"That's the type of help we ought to be providing," the governor said.
Beshear didn't offer a new timetable for a decision, having previously said a decision could come this summer on possible executive action. He instructed his legal team to analyze potential options for executive action that could create a framework to allow medical cannabis in the state.
The governor's office set up a website for public comments on the issue, and a medical cannabis advisory committee is being formed to gather public input.
"The challenge is that there are thousands of people who want to be a part because there are thousands of people who feel very, very strongly about this issue," he said.
A bill aimed at allowing Kentucky to join the majority of states that have legalized medical marijuana passed the Kentucky House this year but died in the Senate. Republicans have supermajorities in both chambers. The bill would have strictly regulated the use of cannabis for a list of eligible conditions including cancer, multiple sclerosis, chronic pain, epilepsy and chronic nausea.
Instead, a measure creating a cannabis research center at the University of Kentucky won final approval from lawmakers. Key lawmakers resisting the legalization of medical cannabis pushed for the center as an alternative. They said it would allow more time to study the effectiveness of marijuana in treating certain ailments.
The governor has said he sees value in the cannabis center's formation, but said he won't wait for it to do cannabis studies before deciding whether to take action.
Beshear has received pushback from some prominent Republicans for considering executive action.
Republican Senate President Robert Stivers said recently that Kentuckians should be concerned that the governor "thinks he can change statute by executive order."
"He simply can't legalize medical marijuana by executive order; you can't supersede a statue by executive order because it's a constitutional separation of powers violation," Stivers said.
Beshear has said he would prefer that lawmakers pass a measure legalizing medical marijuana but said they failed to "get the job done."
Copyright © 2022 The Washington Times, LLC.
Notice Regarding Third-Party Advertisements
This is a cached database listing from another source and all content is created and provided by the advertiser who is solely responsible for such content including, without limitation, all text, images, contact information, and websites. WE CANNOT HELP YOU BOOK ANY ESCORT. We assume no responsibility or liability for such content or the content or operation of websites that you may link to and visit. We do not endorse, review, or control any websites that are linked to or from an advertisement. Please read more about us and review our terms of use and conditions for additional information about database listings appearing on our site. Please reference our online safety tips for general tips and techniques you should keep in mind to protect yourself and your privacy online. Additional information is also available about identifying and reporting suspected Human Trafficking.
About Dating O'Hare Escorts and Chicago Escorts
Are you new to dating O'Hare Escorts and Chicago Escorts? There are two kinds of O'Hare Escorts and Chicago Escorts — independent escorts, and agency service escorts. An escort agency or escort service like Chicago Erotic, hires female companions for fun and adult entertainment and possibly as guides for those who are new to the great cities of O'Hare Escorts and Chicago!
Escort clients may also hire a female companion in O'Hare Escorts and Chicago to accompany him to dinner or an event! Therefore, it's important that escort clients are comfortable with the escort. Whether he chooses a O'Hare Escorts or Chicago Independent Escort or chooses to utilize one of the many outstanding Chicago escort services, many escort clients have concerns regarding the legalities of hiring a female companion or escort. Keep in mind that escorting is a legal career choice for female companions and O'Hare Escorts escorts are never compensated or paid for sexual acts but compensated for their time.
More About Chicago Escorts
Chicago female companions are cultural icons, luxurious, and can be hired to accompany hobbyists for events, companionship or staying at home for pleasant conversation with dinner.
Escort client hobbyists should never hesitate to have a beautiful Chicago female companion on his arm in public or private. O'Hare Escorts and Chicago Female Escorts are uplifting and lead an exciting, pampered, healthy lifestyle. These high-class, VIP Chicago Escorts take pleasure in all the city of Chicago has to offer. O'Hare escorts hired via an escort agency or independent escorts, offer an unforgettable, mind blowing experience and are experts in the aspects of fun, sensuality and the adult entertainment industry.
About Chicago Erotic Escort Directory
Chicago Erotic is an escort directory specializing in databasing the best Chicago Illinois escorts. Chicago Erotic is great site for escorts, providers and escort clients seeking the maximum satisfaction in Chicago and surrounding areas without visiting multiple escort directory websites. On Chicago Erotic, you can search and find Illinois escort ads, read Chicago companion or provider reviews, all in one place. Find local Chicago female escorts, Chicago erotic massage, Chicago massage parlors, Erotic spas , Downtown Chicago independent escort reviews and more.
Are you native to the wonderful city of Chicago? Are you looking for an out of this world encounter with naturally beautiful companions?
Enjoy Chicago Escorts Like a Local Residents or Seasoned Tourist
There are so many escort directories spotlighting VIP female escorts in Chicago or Downtown Chicago. You more than likely queried a Google for "Chicago Escorts," "Chicago escorts near me," or "Chicago escort reviews." Chicago Erotic has everything you're looking for, for an erotic adventure! Whether you're seeking escorts or agency escort services, escort reviews or erotic massage, Chicago Erotic has it all. Your escort desires being satisfied are just a search away!
Finding Real Chicago Escorts
Curious about Independent Chicago female escorts or where to find real ones? With so many options online where should one even begin to look to find reputable Chicago escorts. With Chicago Erotic Escort directory, you can find various erotic services all in one place. Even those under served service areas that like Cicero, Downtown Chicago, Midway Airport or O'Hare. Offering escort service listings in smaller served areas is our speciality. Chicago Erotic escort directory makes it easy. When all Chicago directories and all surrounding areas are combined into one directory website, all the hard work has been done for you. Simply browse our amazing selection of Chicago escort companions.
Female Chicago Escorts Offering Incall and Outcall
Various Chicago independent escorts and escort services offer incall and outcall services. Chicago escorts tend to be extremely accommodating to escort client hobbyist location desires and needs to make for a smooth and exciting encounter.
Chicago Erotic Massage and Spa
Chicago Erotic Massage services are the best when it comes to pampering and relieving your stressed mind and body. Whether you're seeing a private Chicago erotic massage provider, or visiting a relaxing stress-free Chicago massage parlor, or erotic spa, you will be immediately welcomed to release all your stress and tension putting your mind and body at ease.
For Those that Desire only the Best Chicago Escorts
Perhaps your Chicago escort desires have yet to be fulfilled and you still find yourself searching for "Chicago escort services near me," Chicago Erotic Escort Directory offers hundreds of Chicago female companions and erotic massage providers easily via your desktop computer or mobile device for a reason, to offer you a wide selection of service providers to browse in your area, in one place so you can locate the right Chicago Escort for you.
Available Chicago Escorts on Desktop or Mobile
Chicago Erotic Chicago Escorts Escort Directory, regardless of how you're connecting to us, is **** with so many escort tags and escort categories to help you make the best informed decision. For your convenience, try using our quick main menu links to quickly find all Chicago escorts such as All Escorts, which features all escorts in Chicago surrounding areas, Erotic Massage and Escorts Near Me. These quick links will list all Chicago providers which have their location as Chicago Escorts by their adjoining town or city. We also have listings for Chicago GFE escorts, for those seeking a bit more from their Chicago Escort experience.
Booking a Chicago Escort
Remember, Chicago Erotic Escort directory cannot help or assist with booking any Chicago escort booking or appointments. You will need to follow the source link within the Chicago escort ads and contact them directly.
Chicago Erotic Escort Directory offers so many fun categories such as VIP Chicago escorts or more budget friendly Chicago escort service provider, Cheap Chicago escorts.
Again, these amazing Chicago female escorts will often travel other areas within the surrounding Chicago city limits to assist with serving escort client hobbyist that don't get the opportunity to make it directly into the Windy City due time restraints or distance, therefore, check other surrounding areas possibly closer to you for Chicago Escorts, Downtown Chicago Escorts, O'hare Escorts, Schaumburg Escorts, and Midway Escorts.
Trusting a Chicago Escort
PLEASE DO NOT CONTACT Chicago Erotic Escort Directory REGARDING ANY CHICAGO ESCORT YOU MAY SEE ON THIS WEBSITE. WE CANNOT HELP YOU. CHICAGO ESCORT ADS AND THEIR REVIEWS ARE SHOWN FOR ENTERTAINMENT PURPOSES ONLY.
You are viewing cached results from https://www.washingtontimes.com/news/2022/may/5/beshear-predicts-leeway-for-some-action-on-medical/?utm_source=RSS_Feed&utm_medium=RSS